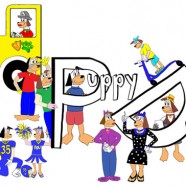 Meet the Cast

We've finally got our full roster!
17  characters that each has a different field of interest and job that they do.
But mainly the PuppyDucks love to help one another.
David the PuppyDuck – is our main character. Dave chose to dress him in his own favorite clothes a comfy blue shirt and red shorts (that Dave likes to wear around the house as well).
Henna the PuppyDuck – Our Healthy Eating n Nutrition Adviser –  will be teaching us fun facts about healthy eating choices and nutrition. She works with David each month as you'll see her with David the PuppyDuck in the Fun Facts Comic Strip.
Jay the Jokester PuppyDuck – who is our resident funny-pup. He likes to tell David jokes, but most of all David likes to tell Jay jokes.
Sophy the PuppyDuck – She's Miss Manners and Music, as she teaches us about how to use good manners. She reminds David to wait his turn when talking, to say "please" and "thank you" and to say "excuse me" when appropriate. Miss Sophie also teaches David how to play music, and how to sing along to music when someone else is playing.
Molly the PuppyDuck – Miss Molly is the word detective. She helps David to learn how to say things when sometimes words escape him. She helps David look for words and how to remember things.
Karey the PuppyDuck – Karey is our newest member to Team PuppyDucks™. She works with David too. Karey and David like to read together, do puzzles, walk & exercise together at the gym or sometimes at the playground. Karey also helps David to learn how to clean up. She's helping teach David about putting away things and cleaning up his play space. David and Karey also like to listen to music together, she's just a lot of fun!

Margy the PuppyDuck – and David are friends and like to hang out. They listen to music, spend time on social media, they make things with clay, and they play games outside like frisbee & hopscotch. They do things that all the cool kids do! Margy is also a bit of an adventurer and likes to explore places and look for treasure.
Jilly the Pen-Pal PuppyDuck – Jilly is Dave's long distance friend. They don't always get a chance to visit, but they stay in touch by texting. Jilly also sends David postcards when she travels. David loves to get and read mail!

Lainey the PuppyDuck – She's a special young PuppyDuck, who likes to ride her scooter and enjoys helping to teach David how to take turns with friends and how to play.
Joya is a young PuppyDuck – is a cheerleader and also likes to jump on the trampoline with David. She also likes to read books, and might even become an editor someday.

Rulliy a young PuppyDuck – is on the school football team – he also plays with David and loves it when David jumps high on the trampoline!

Starita the PuppyDuck – This pup loves to sing and perform on stage with her partner Manny. Starita helps to teach David that friends can work together when putting on a show. Some sing, some dance and some play instruments. Working together can make it fun!
Manny the PuppyDuck –  is Starita's partner as they dance together and perform in the shows together. Manny sings and dances, but he also plays the bongos! He helps Starita to teach David that friends can work together to put on a show.
Swecky the PuppyDuck  –  is our Fitness Pup. He's going to help us learn how to best keep in shape as we learn about the importance of exercise. His favorite game to play is basketball! In this picture we see Swecky at work on the Railroad. His job is to help keeps the train tracks in good shape so that the trains can run smoothly.

Prissy the PuppyDuck  –  teaches us how to share as she shows David how to bake. Prissy likes to bake cupcakes to share with her friends. She always makes extra to brings to parties so everyone can enjoy her tasty treats!

Scoop the PuppyDuck Reporter – helps report and deliver the news on the latest happenings going on around town and the latest news on what David is working on.
Buzzy the Busy Bus Driver PuppyDuck – taking the kids on field trips where we get to learn fun facts about fun places to visit. Buzzy is also our safety advisor and is a lady firefighter!