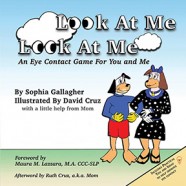 Our First Book is Available to Order!

 
The long awaited print version of Look At Me Look At Me: An Eye Contact Game For You and Me featuring the fun loving characters, The PuppyDucks™ is now available at bookstores online!
The book is now available on Amazon.com and also available on Barnes and Noble.com.
If you have a local library or local bookstore that you think should carry this book, please drop me a line and send me their information so that we can send them our information.
And if you like the book take a moment to write a quick review. You can leave a review on Goodreads.com as this will help others to engage and find the book as well, or on Amazon as the review page is clearly noted on the book page.
Look At Me Look At Me has received some great reviews!
Check out this rebroadcast of a LIVE book review done by Dean and Amy from A Year In The Life Of Autism. They broadcasted a video blog for everyday for a year giving true insight into the highs and lows of life with autism. You can watch their LIVE review if you click on this link to the PuppyDucks TV YouTube page.
"Three cheers for David Cruz! His engaging art style makes this book a must-read for all children." ~ Jennifer L. Holm, New York Times-bestselling author of The Fourteenth Goldfish and co-creator of the Babymouse series.
Click here to Jennifer Holm's blog highlighting David.
The Governor of our home state, NJ Governor Chris Christie  noted that this book, "will now help other children enhance their communication skills." See a copy of the Governor's letter congratulating our star artist David.
Read Reviews from other readers on Amazon…Here are a few highights.
"Look At Me Look At Me is a wonderful book that teaches the importance of acknowledgement when interacting in social situations. This is something many take for granted and few actually remember to do. This is a creative practical way to teach young students the importance of social skills that may or may not be addressed at home. What I found appealing about this book as well is that it was illustrated by a young man with autism. This would be an excellent read aloud for younger students not only for the social skills impact but to open discussions about how wonderfully each of us is made and how differences can also be strengths. I would like to see these books in print and used in the classrooms. It would be a great addition to social studies lessons as well."
"This beautifully illustrated children's book is not only for mentally challenged youngsters but also for all young people. It points out that we all short face the person to whom we are speaking and make eye contact. Adults also can benefit from the message."
"The simple, rhyming text and colorful illustrations help teach children an important social skill. Children will enjoy reading along with the rhyming words as the characters demonstrate how to make and maintain eye contact when engaging in conversation. David's illustrations are sure to entertain children and adults."
From the Back Cover:
Look At Me Look At Me was originally developed by a para-professional looking for the best way to reach a child. The student had great difficulty maintaining eye contact when being urged to discuss the day's events. Gallagher masterfully created this rhyming game for her student, David Cruz. Supported by the school speech therapist, Gallagher observed that they were on the right track to help David master eye contact during conversations. David began to illustrate the passages demonstrating that he understood what was being taught. The story is followed by a count-off game that encourages the reader to engage with someone else and maintain eye contact for as long as they can count together.
The book ends with practical tips cultivated by David's mother and speech therapist. Both used these ideas when working with children to help elicit eye contact. Ruth had used them when she conducted David's early intervention program and Maura actively uses them as a speech pathologist in her sessions with students at school.
Look At Me Look At Me was designed to help foster the development of eye contact in children and elicit non-verbal communication skills. A deficit in eye contact is often found in children with autism and other developmental disorders. Tested and used in a classroom, this book has been proven to cultivate eye contact in a fun way for the reader and caregiver.
Check out the author/illustrator page!