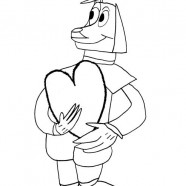 Coloring Fun with The PuppyDucks™
Check out our coloring pages for the upcoming holidays!

Valentines Day
  and
P

r

es

i

d

e

n

t

's

D

a

y



Color, cut and paste a few together & make a special card for your sweetheart.

Or download these pictures to color your
winter favorites and to celebrate
P

r

es

i

d

e

n

t

's

D

a

y

.
---
We try to change the pictures to coordinate with each holiday season.
So be sure to visit us again soon!
---
Copyright notice:
©2018  David H. Cruz aka DHC. All images and materials presented on this web site are protected by United States copyright law and may not be reproduced, distributed, transmitted, displayed, published or broadcast without the prior written permission of PuppyDucks except under the following conditions.
Permissions:
You may download material from the PuppyDucks.com website for your personal, non-commercial use only, for example – coloring pages.
You may reprint or republish portions of text from the site, but only if there is attribution to PuppyDucks Publishing while including the individual author and illustrator as identified.
Images displayed on this web site are the property of David H. Cruz and PuppyDucks. Images may not be redisplayed on another website without the written permission of PuppyDucks Publishing or PuppyDucks.com.
If you wish to obtain a reproduction of an image or if you wish to obtain permission to redisplay an image on another web site, please send an e-mail via the e-mail link on this website.
PuppyDucks™ is a registered trademark of PuppyDucks