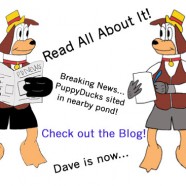 READ THE LATEST NEWS on DAVE & THE PUPPYDUCKS™!
Some of our friends around town are the people at the Augusta Barber Shop. This is where Dave goes to get a haircut. Dave seems to go very often as his hair grows in super quick.
It's a great place to get a trim or a new cut as we start the new school year. The place is friendlly and they do great work. We've often run into a few friends from Kittatinny who also go there, Mr. Grant, Mr. Hermann and even a few of Dave's former classmates.
Cheryl usually cuts Dave's hair, but all the gals are great! They all have enormous patience and just as big a heart. They always give Dave a chance to tell a joke and they always take time to listen when he wants to chat about something.
If you're interested in checking them out they're at 89 Hampton House Rd. and check out their facebook page too!

And check out Dave's comic strip on Getting a hair cut! I wonder how Cheryl will like seeing herself as a PuppyDuck?